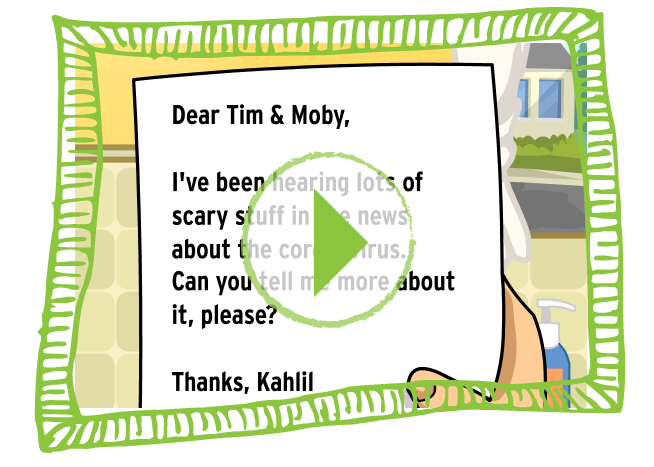 What is Coronavirus?
It can be scary to hear about a disease outbreak, but learning the facts can help ease your mind. Find out more about how viruses work, and the best ways to prevent them from infecting more people. Viruses can't spread without our help, so let's learn how not to help them!
Click here to watch all about it with Tim & Moby from BrainPop.
An Amazing packed list of Resources
With a website name like AmazingEducationResources.com you know there's going to be something for everyone. From STEM activities to online libraries, worksheets for writing to social studies, and even links for virtual field trips, this resources page has so much. It is very packed, so take your time and don't feel like you need to scroll through it all in one sitting.
With school closures, the above links get you access to educational items to fill the void, while this PDF from the Easter Seals is a full visual guide toolkit to help get through school closures. It has been designed specifically for families and children living with autism, and includes sensory activities, schedules, and visual communication.
Staying Active!
We all want to make sure we avoid couch-potato-syndrome but telling the kids to chase the dog around the backyard can only go so far. We've found the video game Just Dance to be a fun get-off-the-couch incentive, but it does require that you own a gaming system. Luckily, Parents.com created this video on 16 strength-training exercises for your kiddos.
To get a full written list of the exercises, you can read the full article here.
Getting "Out" Without Leaving Your House
With our Pal Place partners, you can virtually visit their locations with our Pal Videos and digital guides. Just go to our hosts page and click on your favorite destination!
To take it even further, our amazing partners have developed additional materials and virtual adventures that your whole family can experience.
We know you can't visit the Aquarium right now, but that doesn't mean you can't experience the wonders of aquatic life! During the temporary shutdown, they'll be sharing all kinds of educational content for kids (and adults!) who are at home learning, keeping you updated on what the animals are doing. Go on an oceanic adventure!
Are you ready for a rainforest adventure? You can learn about the butterflies and animals of Butterfly Wonderland and the rainforest, plus help support the butterfly farmers. See more now.
While their doors are closed, the mission remains the same—to engage, inspire and conserve. With behind-the-scenes videos, animal ambassador presentations and educational activities that families can do at home, Fresno Chaffee Zoo hopes to continue to inspire wonder and learning by #BringingTheZooToYou.
Are you missing seeing your favorite players? Fear not, a new interview series has been launched to keep fans connected. Learn more here.
Bring home the wonders of science with weekly lessons plans directly from the Arizona Science Center. Go experiment!
Good Eats
Did you know you can still enjoy delicious food during COVID-19? Yep! Our partners at Flower Child and Sensory Cooking have cooked up some great stuff for our families. Flower Child is offering curbside to-go food and even discounts, plus with Sensory Cooking, you can bake a cute narwhal cake. Who doesn't love narhwals?! They're the unicorns of the sea.
The video below shows the decorating part, so make sure you view the other recipe videos on how to bake your cake.
Be a hero for families with disabilities!
Help us grow the number of Pal Places to support inclusion for all.
Find out how