In a ground-breaking win for inclusion, Mesa, Arizona has become the first city to be Autism Certified through a program with IBCCES. Founder & Chief Inclusion Officer Melanie Isaacs along with Pal team member Hana Ruzsa attended the historic dedication ceremony on Monday, November 18th, 2019.
60 businesses in Mesa completed autism certification training, earning titles of CAC - Certified Autism Center. Among the first CAC? Pal's very own Pal Place, OdySea Aquarium. Other agencies, including Parks, Recreation & Communities Facilities, Fire & EMS, and the Chamber of Commerce, also got certified.
The yearlong effort was launched by Visit Mesa CEO Marc Garcia after his own vacation experience with his 6-year-old son who is on the autism spectrum.
"We were made to feel uncomfortable, uninvited, unwelcomed and not just from other guests like us but from supposed hospitality professions, people in my business, people who should know better. And so, I said, 'This is wrong. I'm going to do something about this in my hometown in Mesa,' and so that's how we embarked on this journey," said Garcia.

The need for autism training as part of the customer service and accessibility experience is huge as the CDC says 1 in 59 children are diagnosed with autism spectrum disorder.
"To see all these different industries that represent various facets of our community come together and support autism, it's truly exciting," said Marc Heirshberg with Mesa Parks, Recreation & Community Facilities.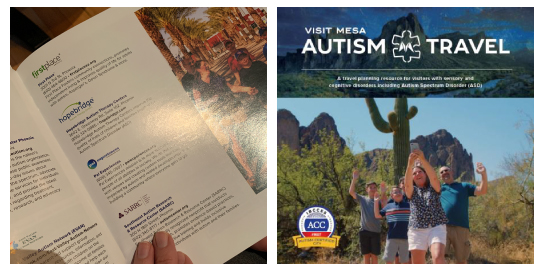 Along with the certification, training, and ceremony launch, Visit Mesa is committed to this being an on-going effort with Garcia confirming he wanted a program that was more than just a nice sticker on the door. A downloadable Autism Travel guide became available showcasing articles from autism families, business resources, and community partners Pal Experiences & more.
"History has truly been made. This is a leap forward for the autism community, and a major step forward for inclusion overall. I cannot wait to see more cities follow suit. In addition, this announcement from Mesa further solidifies that being neuro-accessible IS possible and more importantly, a necessisty," explains Ruzsa.
Be a hero to your guests.
Join our growing network of Pal Places, and tell your customers you support inclusion for people of all abilities.
Find out how