With vacation season upon us, families will soon be packing up their swimsuits and sunblock for days spent exploring. While super exciting, travelling can provoke anxiety due to change in routine, navigating unfamiliar environments and considerable sensory stimulation. This is especially true for individuals with intellectual and developmental disabilities (IDD), and their families. With ample planning and preparing, families impacted by IDD can coordinate a smooth trip full of good times and memories. In this blog, Pal Experiences outlines solutions to some of the potential challenges that reveal themselves when travelling with a person with disabilities.
"Wherever You Fly, [Choose the] Best of the Best"
Book Airfare with Pal Place, JSX.
Travel at ease with JSX, an affordable airline that offers comfortable travel to people and families impacted by IDD and sensory limitations. All JSX staff – from pilots to flight attendants and customer service agents – are trained to assist passengers with autism and other disabilities. In addition, the affordable airline operates 30-seat aircrafts out of private terminals, so passengers are able to bypass crowds and long lines at security and board just 20 minutes before departure. JSX has many accommodations including private rooms at the terminal for quiet time, ear plugs and outlets at every passenger seat. JSX is the first airline certified as Autism-Aware by Autism Double Checked.
Use Pal's 'Know Before You Go' Resources for JSX
Pal Experiences has created an empowering video social story for people with sensory disabilities who become JSX passengers so that they can know exactly what to expect when flying JSX. The airline's Pal Place video covers arriving, general things to know, checking in, boarding, flying, landing and leaving the airport. The Pal Place guide also provides insider tips about booking, scheduling a 'practice run', flying with service animals, and more. With the new resource, there are no surprise elements to encounter at the various airports JSX serves, or on its flights.
Have Your Traveler Explain the In-Flight Process to You
Once you and your family have watched the Pal Place video for JSX, have your loved one recap the process with you in any way they best communicate. This technique can demonstrate how much of the traveling process they have grasped, and if they still still have questions.
Book an Accommodating Hotel
Research hotels and resorts that offer friendly accommodations to people with IDD. There are hotels, like Omni Scottsdale Resort and Spa at Montelucia, for example, that understand the needs of people with disabilities and work to help family members anticipate stress-inducing situations. As a Pal Place, Omni has a video social story so that you can learn what to expect and plan for sensory elements, such as sleeping in a new bed or enjoying the pool with other people around.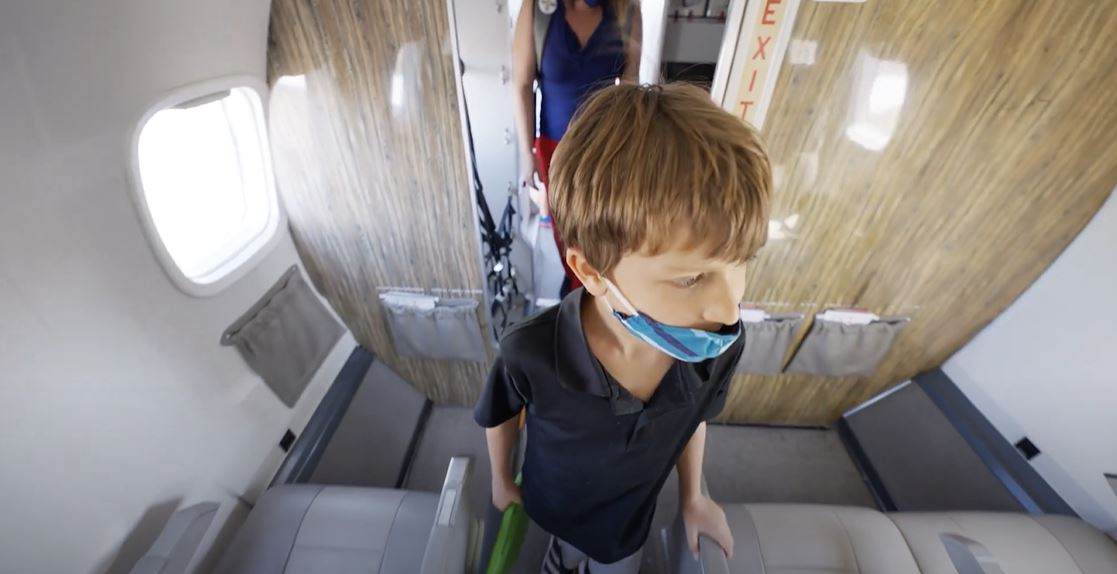 "Your Mountain is Waiting, so Get On Your Way"
Mark the Trip on a Calendar
Once the trip is booked, clearly mark the departure date on a calendar so that your IDD family member can check off each day until vacation. This will help present the concept of time in a concrete and visual way, and prepare them for the day that there will be a change in their routine.
Pack comfort items & entertainment.
…and if possible, don't wash them! Having a favorite item that smells like home can be soothing in a stressful environment. Access to DVDs, music, reading material, coloring books and toys will help to pass the time on board the flight. They may benefit from playing with play dough or putty while on the airplane if they enjoy tactile stimulation.
Exercise prior to departure.
Encourage high motor activity prior to leaving for the airport to relieve any bottled up energy before boarding a plane. Running or jumping on a trampoline for 20 minutes might be ideal activities.
Watch the time.
Place a digital clock or a count-down timer in front of your family member so they know how much longer they can expect to be in-flight for.

"You have brains in your head. You have feet in your shoes. You can steer yourself in any direction you choose."
Visit a Pal Place while on Vacation.
There are currently 34 Pal Places throughout North America that add an engaging and safe experience to your family vacation. Every day, public establishments such as museums, restaurants, urgent care health centers, sporting venues, hotels and more are demonstrating the excitement of making an impact as a Pal Place. Just a few Pal Place include Orange Torpedo Trips, the Fresno Chaffee Zoo and Arizona Diamondbacks Baseball.
Learn more about Pal Experiences and all of the resources we provide to people with intellectual disabilities and their families here.
Be a hero for families with disabilities!
Help us grow the number of Pal Places to support inclusion for all.
Find out how