Video Tour
Showing you what to expect at MIM
Watch with your family as Miles, Melanie, Audrey and AJ explore MIM. Show your kids what to expect, talk about any concerns, and plan around potential sensory issues.
Insider Tips
Know when and where to go, plus how to prepare
Sensory Scale uses 1 - 10 scoring, with 10 being maximum sensory input.
Weekday afternoons are quietest
If you prefer a smaller crowd try weekdays after 2pm. Field trips are typically done for the day and the environment is usually calm.
Take a break
MIM has some great places to take a break, including the Family Center which has books, toys, family restrooms and a nursing station. Enjoy a snack from Beats Coffee Bar or Café Allegro in the courtyard for a break with fresh air.
Try the Family Guide
MIM provides a Family Guide at ticketing that provides fun facts, a scavenger hunt and other goodies that making visiting a fun adventure.
Save the Experience Gallery for last
The Experience Gallery is where you get to play with the instruments! It can be hard to leave this fun room, so if transitions are tough we recommend visiting it last. If the Experience Gallery is too loud, ask a MIM team member of volunteer for access to the Encore Gallery. All of the instruments - fewer people. Thanks MIM!
No food or drink in the galleries
MIM has a complimentary check for backpacks, water bottles and food. If guests get hungry, refreshments are available at Beats Coffee Bar or Café Allegro - both have great choices for kids.
Ask a volunteer!
MIM has many passionate and kind volunteers who are there to help make your visit great. Feel free to ask questions about instruments, places to take a break, or café recommendations. They are there to help!
Digital Guide
For communication and getting around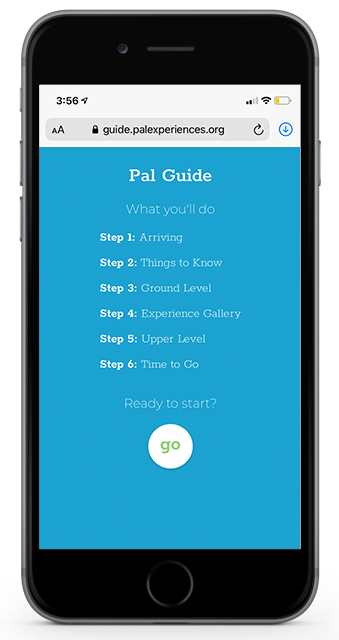 Use our step-by-step approach to set expectations about what you'll see and do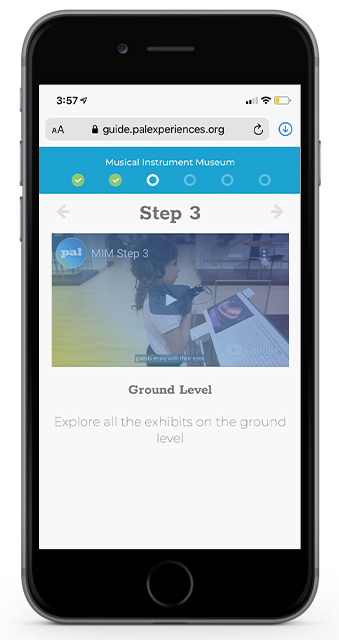 Prep for each step by watching that section from the Pal Video
Click the "i" icon at the bottom of the screen for an on-the-go MIM map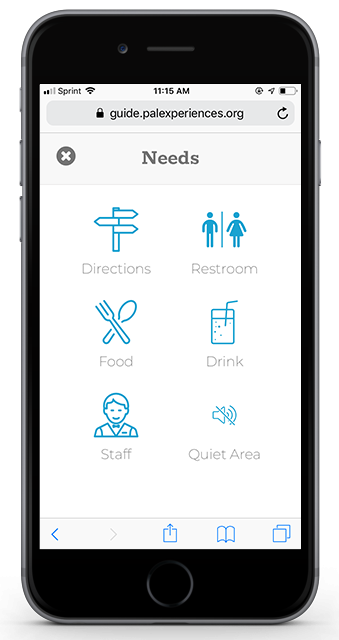 Use picture icons to help communicate needs and wants
Click to open the Pal Guide