Video Tour
What to expect during your stay with Omni Scottsdale Resort & Spa and Montelucia
Follow the Melville family as they enjoy a stay with Omni Scottsdale Resort & Spa at Montelucia. Watch with your family to see what it will be like and talk about what to expect.
Insider Tips
Know when and where to go, plus how to prepare
Sensory Scale uses 1 - 10 scoring, with 10 being maximum sensory input.
Loss Prevention Team
Don't fret! If a stuffed animal, precious toy or important phone charger gets left behind, know that Omni Scottsdale Resort & Spa at Montelucia has a Loss Prevention Team, dedicated to reuniting you with your lost items.
Experience Planners make stays great
From outdoor excursions to room locations, let the property's Experience Planner help you plan your trip before you arrive to make your getaway as easy and stress-free as can be!
Helpful and friendly staff
The staff at Omni Scottsdale Resort & Spa at Montelucia are there to help with any and all concerns you may have during your stay. From forgotten toiletry items, allergies, to cribs and car seats. They can even help guests find medical assistance if need be.
No need to leave the pool
Grab a snack or a refreshing drink to sip on poolside from one of the servers at the family-friendly Kasbah pool. Are you kid-free for the weekend? Check out the adults-only Oasis pool for an even more relaxing environment.
Relax and enjoy the fresh air
The Omni Scottsdale Resort & Spa at Montelucia is an outdoor oasis. There are relaxing hammocks located throughout the property, lush green lawns for playing on, all located at the base of Camelback Mountain. The sunsets cannot be missed!
Treat yourself at Joya Spa
If a relaxing spa treatment is something you're interested in, a visit to the award-winning Joya Spa is a must. Pamper yourself in this full-service spa inspired by the Moroccan desert and Andalusia in Southern Spain. From soothing massages to refreshing facials to nourishing naturopathic services, Joya Spa will make sure you look and feel your best.
Digital Guide
For communication and getting around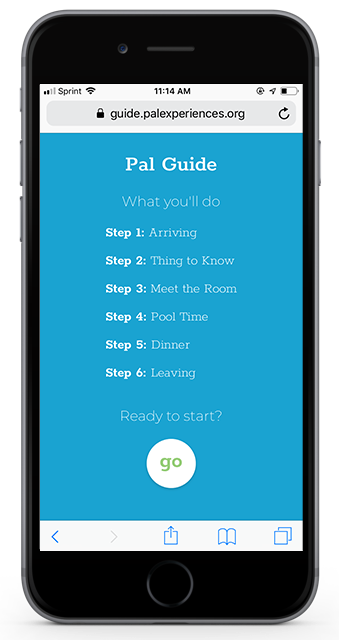 Use our step by step approach to guide your stay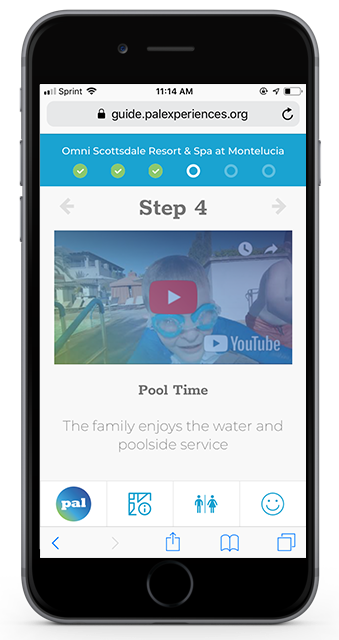 The video tour is divided into sections to make tasks 'bite sized'
Use the video priming tool to model appropriate behaviors at the resort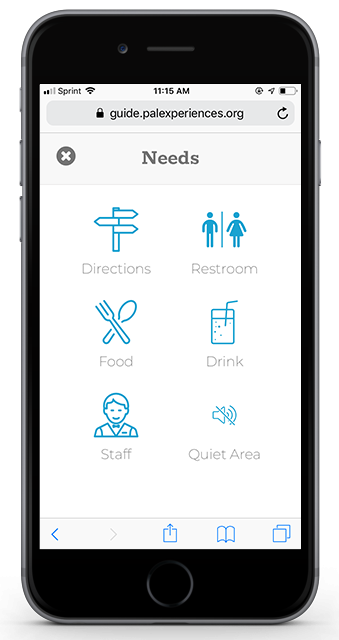 Picture icons help guests communicate needs and wants
Click to open the Pal Guide